Mulefoot description.....
Coburn describes Mulefoot hogs as mainly black, with occasional animals having white points; medium flop ears; and a soft hair coat. The hogs were of fairly gentle disposition, fattened quite easily, and weighed from 400-600 pounds at two years of age. They were considered the highest quality "ham hogs" & and were fed to great weights before slaughter. For some years breeders claimed that Mulefoots were immune to hog cholera. That claim has been disproved, though the breed does seem to posses remarkable hardiness.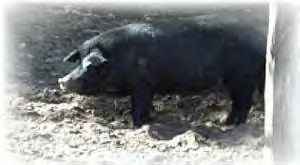 A remnant population of the American Mulefoot has been owned by R.M. Holiday of Louisiana, Missouri, for nearly forty years. He remembers from boyhood that his family and others raised these hogs by putting them on islands in the Missouri and Mississippi rivers to forage during the summer and then rounding them up in the fall for slaughter. This practice was terminated by the Army Corps of Engineers in the 1950's. In 1964 Mr. Holiday gathered together stock from all the known breeders and established his herd. During 1976 he swapped animals with a breeder in North Dakota, which introduced some undesirable traits such as prick ears, wattles and split hooves. Nevertheless, Holliday's strong and consistent production selection has maintained a generally uniform and characteristic herd. After his experience with this "exotic" animal dealer he sold no more stock except those contracted for slaughter. During these years the Mulefoot registries folded and all known copies of the herd books were lost.

*A thank you to Mr. R.M. Holiday...
The American Mulefoot Hog was widespread in the central region of the USA in the first half of this century. They were a hardy outdoor breed with the normal cloven hooves of a pig fused into a single toe (syndactyl). They were also reputed to be resistant to a number of pig diseases prevalent at the time. By the 1960's vaccines and treatments were available for most pig diseases and the numbers of Mulefoot Hogs declined. By 1985 only one herd remained belonging to a Mr R.M. Holliday in Missouri, USA. He continued to maintain the breed because he believed it had a unique characteristic of hardiness, and because of his own family tradition. Both his father and grandfather had reared this breed of pig on the small river islands in that part of the Mississippi river from which they would harvest the young pigs. Today, as new resistant strains of once controllable diseases begin to emerge there is some renewed interest in the American Mulefoot Hogs to re-evaluate the disease resistance claims. There is also interest in examining the foot structure of the breed to see if it might prevent lameness in commercial pigs reared on concrete floors or slats. However, if it hadn't been for the determination of this one farmer to keep this breed going, these new research opportunities would not be available.
*Reference: http://www.fao.org/docrep/004/T0559E/T0559E05.htm

All of our stock are registered with the AMHAR
The American Mulefoot Hog Association and National Registry.*

The associations goal is to document and preserve the American Mulefoot Hog, and save it from extinction. They are in desperate need of a herd book, participation is crucial for this breeds survival! They are registering all breeding stock, free of charge, for a limited time. They welcome suggestions or information as their goal is giving this special breed new hope, this will be quite and undertaking. But well worth the end result.
*The National Mulefoot Hog Record association was organized in Indianapolis, Indiana, in January 1908. Two additional registries were also founded. In 1910 there were 235 breeders registered in twenty-two states. Mulefoots were taken to Canada between 1900 and 1920 but no attempt was made to establish a herd book and pedigree records were not maintained according to J.W. MacEwan in The Breeds of Farm Livestock in Canada. A fire destroyed all records and the registry folded. The American Mulefoot Hog Association was founnded out of a desperate need to preserve this American heritage breed of swine.
FOR SALE

We currently have available:

2 young registered boars for $200 each.

For more information phone 417-261-2228 or 417 - 261 1447.

You can email me at susanbates@webtv.net or write us at:

Water Hollow Farm, HC 73 Box 159-1, Drury, MO 65638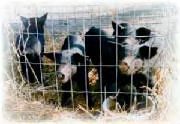 You may email us at any time! We always love to talk pigs!

You may email us at:
Jerry Painter & Susan Bates
* HC73, Box 159 * Drury MO * US * 65638 *
* Phone: 417-261-2228 or 417-261-1447 *
Email: JerryPainter@webtv.net or susanbates@webtv.net